On November 21, 2021 Green Venture hosted our 2nd Annual Wreath Making Workshop to raise funds for our education programs. Mary, the owner of The Pale Blue Dot Shop, guided participants in creating their very own eco-friendly natural holiday decor. 
About the Wreaths
Grapevine wreaths were used as the base of our holiday decor. Grape vine, from wild grape (Vitis riparia) or from commercial grapes, is a popular material to use for making wreaths. Leading up to the event, Green Venture staff and volunteers collected grape vines from the grounds at EcoHouse and some of us from our own backyards grapes to create our wreath bases. 
About the Greens
A grapevine wreath is beautiful on its own, but adding greens adds an extra touch that brings the holiday magic to your door. A variety of evergreen boughs and native shrubs with berries can be used to decorate wreaths. Our greens were sourced from the native plants found at EcoHouse and some greens were also generously donated by Terra Greenhouses and La Primavera Farms. 
Read on to learn a more about the native plant greens used in our workshop:
Canada yew Taxus canadensis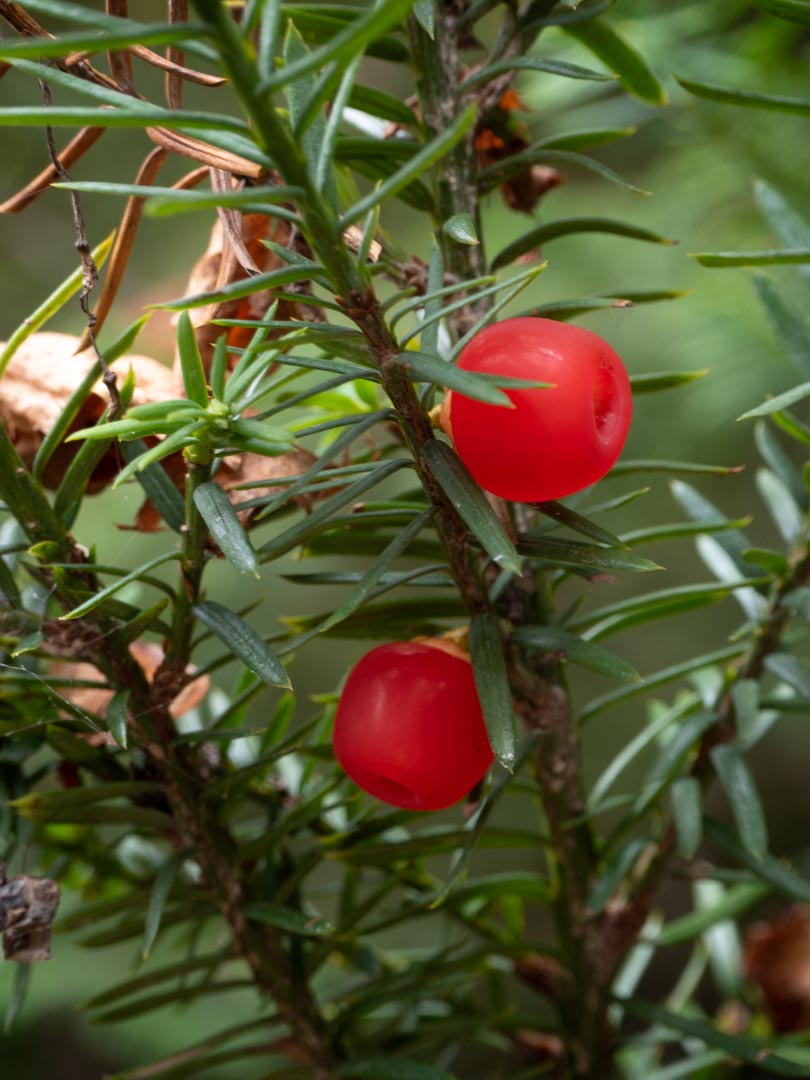 Photo source: Ripe arils [C.J. Earle, 2019.10.04]
At EcoHouse, Yew can be found in the front rock garden and on the west side of the house.
Eastern Red Cedar Juniperus virginiana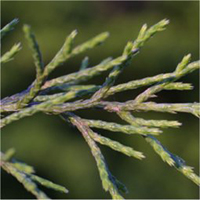 Photo source: Ontario.ca [Robert Vidéki, 2014]
At EcoHouse, Eastern Red Cedar can be found near the EV charger and west of the greenhouse. 
Common juniper Juniperus communis 
Photo Source: http://northernontarioflora.ca/
At EcoHouse, Common Juniper it can be found along the front rock garden paths.
Eastern white cedar Thuja occidentalis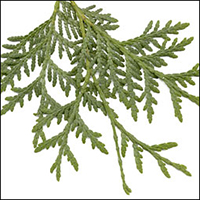 Photo source: https://www.ontario.ca/page/eastern-white-cedar [Ministry of Natural Resources]
Eastern White Cedar is found throughout the EcoHouse gardens. It is the most common tree at EcoHouse. 
Winterberry Holly Ilex verticillata
Photo source: NetPS Plant Finder
At EcoHouse, a newly planted row of winterberry can be found at the back of the property, beside the mud kitchen. 
Make it Yourself ! 
As you begin to decorate for the holidays, consider using materials that you can find in your own backyard like grapevines and greens. Using local materials to create your home decor has many benefits. Planting native plants that you can later prune to bring indoors adds a little nature to your celebrations and helps to foster a deeper connection with our environment. When we opt-in for natural materials, and opt-out of store bought decorations, we are reducing waste and toxic chemicals, and selecting materials that are compostable and healthier instead. So you can feel good about going over-the-top with your décor this year and have a greener, eco-conscious holiday season. 
Materials you will need: 
Vines (for your wreath base)
Pruners/Scissors 
Greens
Floral Wire/ Jute Twine
Gloves
Accessories (cones, bows, seedheads, etc. ) 
To make a grapevine wreath: 
Begin by gathering and untangling the vine pieces. Take care to only collect from your personal garden or landscape. 

When you have gathered vines into a manageable bundle, begin to form the vine into a circular shape. Wrap a few thick strands of vine into a circle, and continue to wrap the vine in and out of the circle until you reach the end of the vine. Tuck the end of the vine into the wrapped strands. 

Continue to wind and secure with more vines until your wreath is sturdy and you've wrapped it around and overlapped the starting point a few times. Tuck any loose bits in. If it is not perfectly round you can gently squish it until you've got the shape you want.
Decorating the wreath:
Thank you to our amazing volunteer Danielle, and to The Pale Blue Dot Shop , Terra Greenhouses and La Primavera Farms for making this event possible. Thank you to everyone who attended this wonderful event and helped contribute to our education programs. 
If you would like to support Green Venture's programs, please consider making a one time donation or becoming a monthly donor here. 
Please note: When gathering live greenery from garden shrubs and trees, remember that you are pruning your plants. Consider carefully which branches to cut and which ones to leave. Distribute the cuts evenly around the plant and only take what you will use. Next spring consider adding a native evergreen or winterberry plant or two, so you can grow your own natural holiday greenery cutting garden.